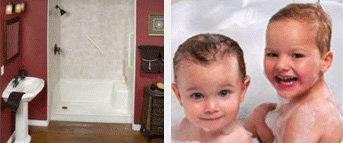 A great add on business for plumbers, contractors or remodelers; or even if you're not experienced, Re-Bath will teach and support you every step of the way.
"Remodeling business that will weather an economic downturn" - The Wall Street Journal, 2008
Benefits of Owning a Re-Bath Express
· Distributorship available
· Be your own boss
· Nationally recognized 1-800-BATHTUB
· Lifetime warranty!
· Mobile showroom & workshop
· Drive your destiny
· 95% recommendation from our franchisees*
· Business slow? Refresh fast! with Re-Bath!
· Over 200 worldwide outlets
· Complete turnkey operation
· Extensive training and support
· National advertising
· Low initial investment
To learn more about the Re-Bath Express franchise opportunity, simply complete the form below.
Please note that this franchise opportunity is only available in the below states:
AK,AZ,AR,CO,CT,DE,FL,GA,ID,IA,KS,KY,LA,ME,MA,MS,MO
MT,NE,NV,NH,NJ,NM,NC,OH,OK,PA,SC,TN,TX,VT,WV,WY