It's a modern automotive service provider that specializes in vehicle longevity. Therefore, it provides all of the maintenance and repair services necessary for a car owner to benefit from the full life of his/her vehicle.

A 200,000 Mile shop provides all the services of a traditional undercar shop or tire store (except major engine transmission repair) and also has a proprietary maintenance program that not only covers vehicles out of the manufacturer's warranty period, but, as well, mileage to 200,000 miles and beyond.
THEY'RE AUTOMOTIVE LONGEVITY SPECIALISTS.
Why will the automotive service industry continue to prosper?
The American public is dependent on automotive transportation

Automobile repair has been described as a "Basic Need" business and can be compared to other necessity industries such as food, clothing and shelter

The average age of cars and light duty trucks in use currently

exceeds 9 years and continues to increase each year

The average annual number of miles driven per vehicle

In the USA the number of vehicles in use during 2004

exceeded 225 million and it continues to grow
Why choose Merlin 200,000 Mile Shops?
Higher than average sales volumes

History of sustained sales growth

Our relationship marketing approach to the business

Comprehensive six-week management training program

State-of-the-art facilities

Aggressive marketing programs to drive traffic and maximize sales

Merlin 200,000 Mile Shops focuses on individual shop success - not just selling franchises

Unique programs that turn your previous experience into dollars toward your own franchise
What special qualities and skills does a Merlin 200,000 Mile Shops franchisee need for success?
High energy level and good work ethic

Ability to concentrate and follow a system

Good verbal communication skills

Successful management experience

Basic understanding of business economics

Sales and marketing aptitude

Ability to lead and motivate employees

Dedication to the customer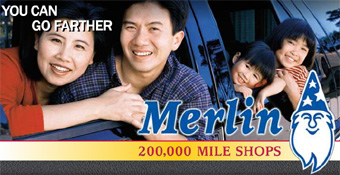 Turn your experience into $$$$
If you are or have been a Senior Technician, Shop Foreman, Service Manager, Assistant Manager or Shop Manager within the industry, you can make that experience count. Our FASTRAK program converts your industry experience into hard dollars. If you qualify, you could receive up to $15,000 toward the purchase of your own franchise.
How soon can I be in operation once I have been accepted as a franchisee?
Location is the determining factor. On a new and "contract-controlled" location, construction normally can be completed in 120 to 150 days, subject to building permits and zoning requirements. In the case of an existing operation, this time period could be as little as 75 days.
To learn more about the Merlin 200,000 Mile Shops automotive franchise opportunity, simply complete the form below.